DESCRIPTION
Product Detail:
HDD-100PMZI 4 Inch 182 CFM Silent Inline Duct Fan housing is made of PP plastic, light, double insulation, with high anti-acid function.
Sealing design in connection, Protection class: IP44 protection level, dustproof and waterproof.
Applications include: workshops, welding rooms, restaurants, factories, warehouses, barns, and greenhouses
Design:
Precision balanced for quiet and vibration-free operation throughout.
Outer rotor motor is used NMB ball bearings for more stability and quiet running and more than 50,000 hours of operation time.
Reduce expensive cooling bills at home.
Motor features a permanently lubricated ball bearing that operates quietly and requires no maintenance.
Wireless Smart Control:
Duct Size: 4"| Airflow: 182 CFM. | Air Pressure: 177 Pa | Noise: 29 dB | Bearings: Dual Ball.
The wireless controller has a built-in sensor to monitor room temperature, humidity and VOC value in real time to enable intelligent operation of the fan. AUTO / manual mode freely switchable, 1-30 minutes timer setting.
Permanently lubricated ball bearing motor for maintenance-free operation.
In automatic mode, the controller controls the fan at high speed when the air quality is higher than the set value (temperature, humidity, VOC value), and the fan stops only when the air quality is lower than the set value.
Intelligent controller with temperature and humidity programming, fan speed control, timer, and alarm system.
Eco:
Long life: Long life NMB ball bearing motor (up to 50,000hours) with thermal overload protection
Lower air connection costs and faster installation. Protection Grade: IP44
Multi-environment: Suit for grow tents, green rooms, hydroponics, basements, attics, hospital rooms, commercial cooling and industrial applications.
Power and Performance:
Power Consumption: It has a very low power consumption rate. The efficiency is due to by its latest mechanism.
Exhaust and intake air: Making fresh air to rooms in a quick and reasonably quiet way, circulate fresh air, control humidity, excess heat, smell and air quality in grow area.
Low Noise:
This product comes with low noise technology. High quality blades and machine performance makes the very low noise.
One more important aspect comes with zero vibration, which indicates the perfection of manufacturing of the product.
Usability:
Hongguan, while manufacturing the products focuses on every aspects of quality and usability.
There are variation speed ranges for all type of uses.
Can be designed with user friendly features such as run on timer, temperature sense, humidity sensor or other customized functions.
Built with cutting edge brushless electronically commutated Motor (EC) motor and dual jet type impeller,
Summary:
The HDD-100PMZI 4 Inch 182 CFM Silent Inline Duct Fan is product can be used as the most effective ways to improve your indoor air. It has a Mixed flow design combined with a PWM-controlled EC-motor for a truly quiet and energy efficient performance. You can use it for: workshops, welding rooms, restaurants, factories, warehouses, barns, and greenhouses. Small but mighty, you'll enjoy the power and efficiency of Hongguan silent Fan. Also to reduce or remove the sources of pollutants and to ventilate with clean outdoor air. HDD-100PMZI 4 Inch 182 CFM Silent Inline Duct Fan with smart air flow. This is perfect product to buy in 2021 equipped with all the necessities.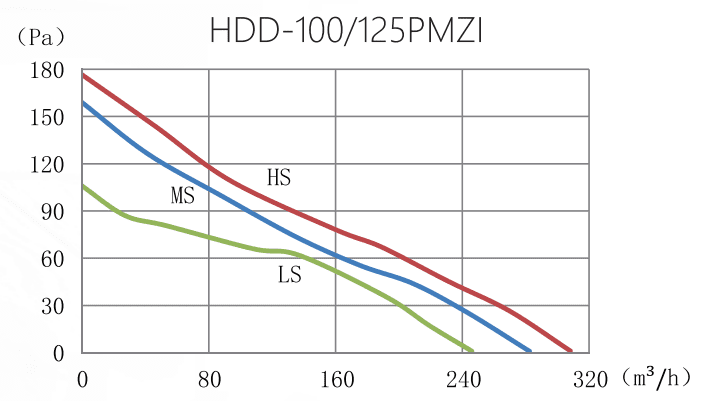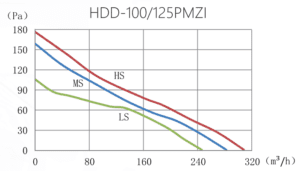 TECHNICAL SPECS
Model
Speed
Voltage
(V)
Size
(mm)
Current
(Amps)
Power
(W)
Air Speed
(RPM)
Airflow
(m³/h)
Air Pressure
(Pa)
Noise
(dB)
Net Weight
(Kg)
HDD-100PMZI
H
220~240/50
100
0.16
37
2600
310
177
29
2.8
M
0.14
33
2250
284
159
25
L
0.13
28
1850
248
106
22
Q&A
- Can we order goods from you directly?
Yes, we look forward to receiving your order. However, please note our minimum purchase quantity. f you require smaller quantitieswe will be happy to arrange an individual delivery. We would be delighted to assist you.
- Can i get a discount?
This depends on the specific situation, you can call directly to consult.